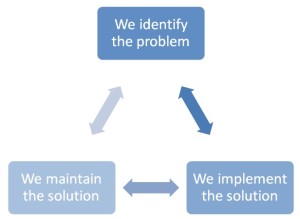 PRICING
Remote Queue offers three main pricing options:
Hourly

– The less traditional sort of short term assignments helping a company solve software or hardware related problem. Includes both emergency and non-emergency technical assistance.

Retainer

– The more traditional form of consulting, including regular system maintenance, software and hardware upgrades, and network administration. The owner's particular area of expertise is in management consulting with regard to MIS. We also utilize consultants in various areas of expertise on retainer only.

Project

– This includes such things as consulting on major purchases, system/network installation and testing, major disaster recovery as well as any item on the engineering services.

Monthly and Annual Packages

– This is a great way to get the most bang for your buck for our small business and residential clients.
FULLFILLMENT
The fulfillment of services for Remote Queue is provided by the owner as well as select, top quality consultants that are at the head of their niches. The ultimate deliverable is the owner's expertise and problem solving ability, coupled with an open mind and ease of communication that will result in the customer's complete confidence in immediate and lasting results.
Organizations have recognized that they need to become leaner, more efficient and responsive. Businesses are looking to IT to understand these requirements and to deliver creative solutions that will save them time, money while maintaining quality. Companies are seeking strategic technology initiatives as enablers of growth, not just cost reduction. A survey was conducted with senior IT decision makers from 110 companies by Modis International. The underlying conclusion from the research pointed that strategy; commerciality and cost-effectiveness are currently the primary drivers for IT. The residential consumer as well is currently driven by cost-effectiveness, sustainable solutions and maximizing savings by instituting repairs.
Remote Queue welcomes the opportunity to help your business successfully maneuver through today's latest trends:
Trend #1: The evolution of virtualization – will drive companies to treat IT like a business. Remote Queue offers expert advice to our users as we create a workable vision of architecture control. We enjoy assisting our clients in creating updated strategic plans.
Trend #2: Big data, patterns and analytics – Unstructured data will grow over 80% over the course of the next 5 years creating a huge IT challenge. Remote Queue offers technologies to the small business sector such as in-line deduplication, automated tiering of data and flash or solid-state drives for higher-end performance optimization. Remote Queue can assist your business in engineering analytics and other systems to monitor for recurring data patterns that could develop money making applications.
Trend #3: Baby Boomers Retire- Starting in 2011, an average of 10,000 baby boomers will be eligible to retire daily for the next 19 years. Remote Queue enjoys assisting clients in making the most of today's technology to stay in touch with family and friends.
Trend #4: Social Networks – Affordable and accessible technology has let individuals and communities come together in a new way – with a collective voice – to make statements about our organizations, the products/services we deliver and how we deliver them. The collective is made up of individuals, groups, communities, mobs, markets and firms that shape the direction of society and business. The collective is not new, but technology has made it more powerful -and enabled change to happen more rapidly. The collective is just beginning to have an impact on business operations and strategies but most organizations do not have a plan for enabling or embracing it. Ignoring social networking is not an option. Remote Queue can assist our current and existing clients in promoting their businesses through social networks.
Trend #5: Cloud Computing – While cost is a potential benefit for small companies, the biggest benefits of cloud computing are built-in elasticity and scalability. Remote Queue utilizes the expertise of its MIS consultants to assist the small business owner in taking advantage of the latest trends to save time and money while growing business opportunities effectively.
Return to services page